Telephone:


440-668-6500



Fax:


330-562-7535



Postal Mail:


P.O. Box 770641
Cleveland, OH 44139



Email:


info@csardasdance.com



Web Site:


Csárdás Dance Company


OLD TRADITIONS:
NEW EXPERIENCES






The Ohio Arts Council helped fund this program or organization with state tax dollars to encourage economic growth, educational excellence and cultural enrichment for all Ohioans.
October 2008

In This Issue:

● Csárdás Showcases New Classical Choreographies
in Cleveland Orchestra Performances

● Richard Graber Comments on New
Classical Choreographies

● Ohio Arts Council Support

● Performance/Event Reviews

● Csárdás Joins with Network for Good




---
Csárdás Showcases New Classical Choreographies
in Cleveland Orchestra Performances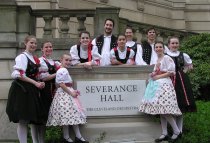 Csárdás Dance Company was honored to be invited to perform with The Cleveland Orchestra on stage at Severance Hall in April 2008 as part of the "Dancing with Dvoř?" Family Concert Series. Beyond the traditional Hungarian folk dances, however, we were asked to perform to classical music! Founder, Richard Graber and Artistic Director Christopher Smith, assisted by Rehearsal Instructor, Stuart Meyer, rose to the occasion to create three new choreographies to Brahms "Hungarian Dances 5 and 6" and Dvor? "Slavonic Dance No. 1". Assistant Rehearsal Instructor, Judith Horvath, aided in the intense rehearsals. Our dancers performed wonderfully during the three Severance Hall performances which included one educational performance for Cleveland area schools, and received many accolades from orchestra members and the conductor, Tito Mu?z . See photos on our BLOG or on our web site in the PHOTO GALLERY



Richard Graber Comments on New Classical Choreographies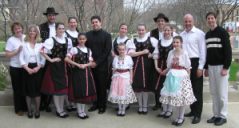 When asked a year ago to perform with The Cleveland Orchestra on stage at Severance Hall, Csárdás Dance Company was honored to be considered to dance in this special event. This performance would set a precedent for the 14-year old dance company in performing to classical music for the first time. Founder Richard Graber gives his thoughts on choreographing to this different style of music in a recent interview...
1) What challenges were present when you were attempting to first choreograph to classical music?
RG: "Finding a balance between authentic and traditional dance motifs and those of more of a presentational fabricated dance tradition - I think we found a comfortable mix leaning toward the authentic side of things."
2) Tell us how you overcame these challenges.
RG: "By not allowing myself to follow natural 'choreographic preferences' - this means revisiting a section over and over until it feels right to me and makes sense."
3) What parts in the choreographies are you particularly pleased with?
RG: "Actually I'm happy with both works -- in particular, I like the beginning section of the Dvor? piece for which I had the two dancers that danced the section in mind when I created the choreography…. The music is also very light and lends itself to many expressive qualities through the dance."
4) Do you see Csárdás expanding more in this realm?
RG: "Not as a huge priority but perhaps intermittently working on a classical (or contemporary) work would be healthy for the company - it helps keep dancers engaged and challenged while entertaining and presenting a unique blend of repertoire to our audience base."



Ohio Arts Council Support


Csárdás Dance Company is pleased to have been a recipient of the prestigious Arts Access grant from the Ohio Arts Council this summer. The grant was for the production of our new choreographies, as well as the expansion of our community collaborations and the presentation of educational outreach activities and materials. If your organization would like to partake of our new offerings in these areas, please contact us at info@Csárdásdance.com.



Performance/Event Reviews

Csárdás Youth Ensemble has once again delighted audiences all over northeast Ohio with performances in varied venues - Kent State University, Menorah Park Senior Center, Severance Hall, Berea Oktoberfest, Taste of Cleveland, Burton Century Village and the Re dedication of the Cleveland Hungarian Cultural Gardens.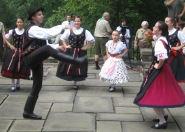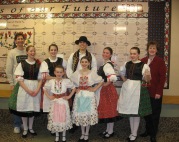 Hungarian Cultural Gardens and Menorah Park




?It was a joy to watch the young men and women of the Csárdás Dance Company Youth Ensemble perform on the main stage at Severance Hall this Spring. The ensembles? colorful costumes were a beautiful and striking contrast to the Orchestra?s classic attire. And the dancers? commitment to their art was evident in their well-rehearsed choreography and expressive performances which added a new dimension to our Dancing with Dvor? concert. Bravo on a job well done!? Joan Katz Napoli, Director, Educational Programs, The Cleveland Orchestra, Severance Hall

Above -- Csárdás Youth Ensemble with The Cleveland Orchestra at Severance Hall.
Photo taken by Roger Mastroianni

See our WEB SITE for our up-coming performance schedule!










Csárdás Dance Company is pleased to join with NETWORK FOR GOOD. Network for Good brings together donors, volunteers and charities online to accomplish good. Users can donate to more than one million charities and search from among more than 36,000 volunteer opportunities. Network for Good is an independent 501(c) (3) nonprofit organization directly accountable to GUIDESTAR. GuideStar's mission is to revolutionize philanthropy and nonprofit practice by providing information that advances transparency, enables users to make better decisions, and encourages charitable giving.

To support Csárdás utilizing this service, please visit the NETWORK FOR GOOD web site and under Charity Name type "Csárdás".




---
CHECK US OUT ON FACEBOOK! --
"Csárdás Dance Company"


Watch for occasional "Communique" bulletins to keep you up to date with Csárdás events!