Telephone:


440-668-6500



Fax:


330-562-7535



Postal Mail:


P.O. Box 770641
Cleveland, OH 44139



Email:


info@Csardasdance.com



Web Site:


Csardas Dance Company




February 2006

In This Issue:

● Hungarian Dance Workshop with Richard Graber

● Graber Sets New Choreography;
Conducts Workshop for Modern Dance Company

● Hungarian Dance Classes in Spring

● Csardas Youth Ensemble Performance Reviews

● Csardas' New Home



---

Hungarian Dance Workshop with Richard Graber!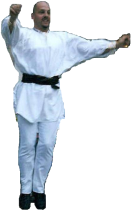 Csardas Dance Company is pleased to announce that Founder and former Executive Director, Richard Graber, will conduct Hungarian dance workshops for the general public on Saturday, February 18, 2006 at Crossroads Dance Studio, in the International Dance and Cultural Center located at 29 West 130th St. in Hinckley. The workshops take place from 11:00am - 12:30pm (ages 8-14) and 12:30pm - 2:00pm (ages 15 - adult). Cost for the workshop is $15.00 (group rates available). Graber will teach basic Hungarian dance motifs, including the Csardas, as well as Hungarian dances from Moldavia. In addition, members of Csardas Youth Ensemble will teach a simple Hungarian dance in a FREE dance clinic that same day from 10:00am - 11:00am. Registration is being accepted until Friday, February 17 and is required for all sessions by E-MAIL or by calling 440-668-6500. For full details, see HUNGARIAN DANCE WORKSHOP.
The International Dance and Cultural Center is located in Hinckley at 29 West 130th Street between Routes 82 and 303 just south of Boston Rd., next to the CVS.


Graber Sets New Choreography;
Conducts Workshop for Modern Dance Company

Richard Graber will set a new choreography on the Csardas Youth Ensemble in private sessions this month. The choreography will include a Hungarian dance from Moldavia. New costumes will also be forth-coming.

Houston was very happy to have Richard Graber arrive in town! Within a few months of residence there, Graber was asked to conduct a Hungarian Dance Workshop for the Houston-based modern dance company, DANCE AD DEUM.


Hungarian Dance Classes in Spring

Csardas Dance Company announces HUNGARIAN DANCE CLASSES in two 4-week beginner spring sessions. The classes will cover the basics of Hungarian dance as well as learning a typical village dance from Hungary. Details follow:

HUNGARIAN DANCE CLASS FOR BEGINNERS
Session 1: Sundays March 5, 12, 19, 26
Session 2: Sundays April 2, 9, 23, 30
Time: Ages 8 - 14, 3:00 - 4:00 pm, ages 15 - adult, 4:00 - 5:00
Cost: $48.00

Registration is required for all sessions by E-MAIL or by calling 440-668-6500.


Csardas Youth Ensemble Performance Reviews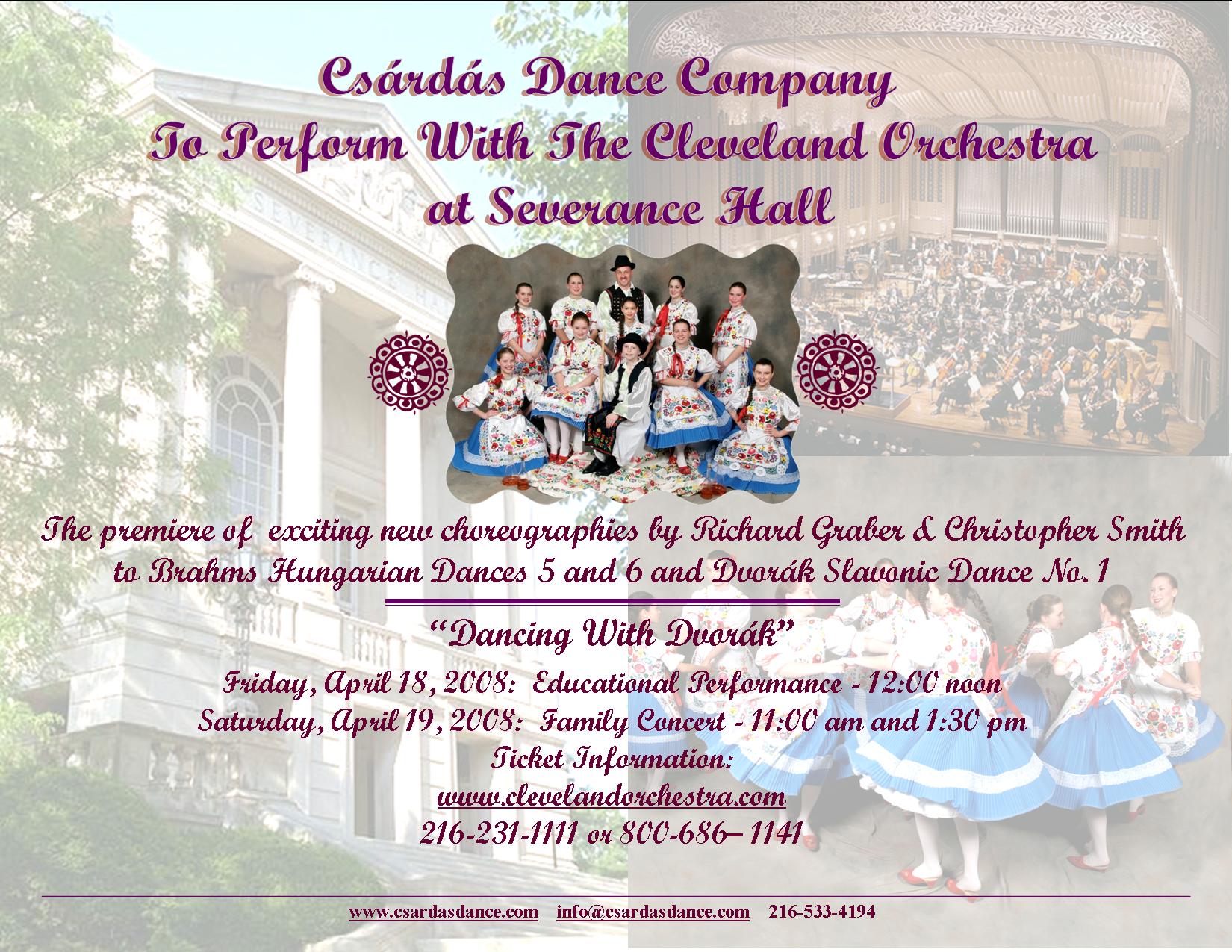 Csardas Youth Ensemble spent a busy holiday season at the end of 2005 performing at Severance Hall, Taft Elementary School, Medina Performing Arts Center and 4 performances at Trinity Cathedral! All performances received rave reviews. At the Medina Performing Arts Center, the Youth Ensemble performed in conjunction with the Budapest Ensemble from Hungary and received accolades from Director, Zoltán Zsuráfszki. The performances at Trinity Cathedral were in conjunction with the annual Medieval Feasts, this year the theme being Hungary -- thunderous applause resounded throughout the cathedral from their performances. Severance Hall patrons were thrilled to have the youth ensemble perform in conjunction with The Cleveland Orchestra Family Concert Series. Students at Taft Elementary loved our dancers enough to ask for autographs! More photos from these performances can be seen in our PHOTO GALLERY.





Csardas' New Home

Csardas Dance Company is excited to have Crossroads Dance Studio, located in the International Dance and Cultural Center in Hinckley, as their new home for performance rehearsals and Hungarian dance classes. Crossroads offers a variety of dance classes for children through adult, including belly dance classes. For more details contact studio manager MARDI ZUCCO at 440-238-6423.
The International Dance and Cultural Center and Crossroads Dance Studio are located at 29 West 130th St. in Hinckley between Rts. 82 and 303, just south of Boston Rd., in the Lamplighter building, next to CVS.


Board Sense..
NEEDED -- GRANT WRITER!

Do you have grant writing skills? If so, we have a place for you! Csardas Dance Company, a non-profit organization, is seeking a part-time grant writer. Knowledge of writing grants in the field of the arts, in particular dance, is helpful, but not required. Help us to inspire a passion for dance! Call us at 440-668-6500 or E-MAIL US.


Your Support is Needed...
In order to continue providing the joy of Hungarian dance to Cleveland and beyond, we rely on the generous support of individuals. It is now easier than ever to support our non-profit dance organization! Csardas Dance Company is Paypal Verified so you can make a donation with your credit card within minutes and know that the transaction is secure! Your donation is tax deductible! To support Csardas please visit:
Csardas Dance Company :: Support


Watch for our spring 2006 "In Step" newsletter announcing our performance schedule for 2006!