Telephone:


330.725.2873



Fax:


440.237.0135



Postal Mail:


3609 Medina Road
Reserve Square Center
Medina, Ohio 44256



Email:


info@Csardasdance.com




May 2005

In This Issue:

Movement Arts Center Announces
Spring Showcase!

Tancház and Dance Day a Success!

Csardas Youth Ensemble Performances
Encourage Young and Old

Csardas Performance Photos

Check Out Csardas on New Artists Web Site

Board Sense.. NEEDED -- A FEW GOOD MEN AND WOMEN!
---
Movement Arts Center Announces
S P R I N G
S H O W C A S E ! !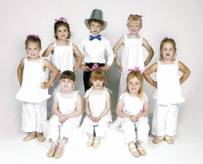 Celebrate Father's Day, Sunday June 19, in a unique way by attending the Movement Arts Center's annual Spring Showcase in Medina! Featured performers include the students of MAC professional instructor Olga Yasenka-Wise, the Csardas Youth Ensemble performing Hungarian dances, and featured guest artists, including Ohio Ballet dancer, Brian Murphy. Performance is at Highland High School on Ridge Rd. in Medina at 3pm and will be directly followed by a reception. Tickets are $12.00. Call 330-725-2873 for more info. Location can be found at 4150 Ridge Rd Medina, OH by MapQuest
Also check out our web site for more details...
Csardas Dance Company :: Media



Tancház and Dance Day a Success!



The Movement Arts Center hosted its first Tancház (Hungarian Dance House) on February 20 and also its first Dance Day celebration on April 29, as perscribed by the Council on Dance (CID), UNESCO.

Our Tancház consisted of performances of Hungarian dance by the Csásdás Youth Ensemble, who then taught the audience some simple Hungarian dances. All had a wonderful time of celebrating the art of dance!
For Dance Day, the Movement Arts Center hosted 8 dance groups that day for a standing-room only crowd. The groups that participated were Illstyle Rockers (hip hop), Ohio Conservatory of Dance (ballet), Columbus Tap Project (tap), Susana Evert (Latin), Jessica Koeberling (belly dancing), Csardas Youth Ensemble (Hungarian), plus performances by students of the Movement Arts Center and Executive Director Richard Graber and visiting Hungarian dancer, Liz Krajcz from the Csipke Ensemble in Detroit (shown in photo).
The Movement Arts Center would like to thank each performing artist that gave of their time for both dance celebrations.



Csardas Youth Ensemble Performances
Encourage Young and Old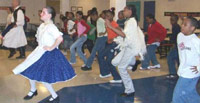 Csardas Youth Ensemble performed to many appreciative and supportive audiences this spring. Included were McKinley Elementary School in Cleveland and Oxford and Boulevard Elementary Schools in Cleveland Heights, which included teaching sessions by Richard Graber. At Medina Western Reserve Masonic Community, our youth ensemble and Richard Graber performed for delighted residents there. Our youth ensemble also had a special opportunity to perform at Bethel Lutheran Church in Middleburg Heights for a group of mentally challenged adults who enjoyed the performance so much that they even learned a Hungarian dance! Csardas Youth Ensemble also performed outdoors at Kent State University's "Culture Shock" event. See our web site for photos of these events (see next article)....



Csardas Performance Photos

The Csardas web site now has a special link in our Photo Gallery to view more photos of our performances! You can see photos of the performances mentioned above by going to Csardas Dance Company :: Gallery and clicking on the link at the bottom of the page entitled "More Csardas Dance Company Photos".



Check Out Csardas on New Artists Web Site

A new web site has been developed by Founder Jeon Francis entitled ARTISTS CHAIR. Artistschair.com is committed to promoting and raising awareness of local artists, arts-related institutions and issues, and the Northeast Ohio region as well as serving the needs of those searching for creative talent and resources. Csardas Dance Company is proud to be a part of this exciting new venture! Check them out at Artists Chair.



Board Sense..
NEEDED -- A FEW GOOD MEN AND WOMEN!

Do you have marketing, public relations, or volunteer coordination skills? If so, we have a place for you! Csardas Dance Company is seeking professional individuals to serve on the Board of Directors. Help us to inspire a passion for dance! If you cannot commit to the Board, but would like to volunteer for other projects, including fund-raisers throughout the year, please let us know! Call us at 330-725-2873 or e-mail us at info@Csardasdance.com



Please Support Csardas Dance Company With Your Tax-deductible Gift.

It's safe, easy and fast! Please click this link to see full details on how you can pledge support to our non-profit dance organization!
Csardas Dance Company :: Contact Us



Watch for our summer "In Step" newsletter and occasional "Communique" bulletins!



Buying or Selling a Home? It's got to be Real!