Telephone:


440-668-6500



Fax:


330-562-7535



Postal Mail:


P.O. Box 770641
Cleveland, OH 44139



Email:


info@Csardasdance.com



Web Site:


Csardas Dance Company


OLD TRADTIONS:
NEW EXPERIENCES



September 2006

In This Issue:


Beginning Hungarian Dance Class



Hungarian Dance Workshops with Richard Graber



Csardas To Perform in Indiana



New Dance Suite Premiered



Csardas Youth Ensemble Performance Reviews



Csardas Invited to Perform for Cleveland Hungarian

Revolution 50th Anniversary Event


Graber Named Director of Communications



Upcoming Performance Schedule





---
Beginning Hungarian Dance Class



Csardas Dance Company is pleased to announce Beginning Hungarian Dance Classes at the Brecksville Center for the Arts (BCA). Classes will be four 1-hour sessions on Sundays in October (October 8, 15, 22 and 29) from 3:00 - 4:00 pm. Cost is $46 for members of BCA and $50 for non-members. Registration deadline is October 2. For full details, see BRECKSVILLE CENTER FOR THE ARTS or CLASSES/WORKSHOPS. Brecksville Center for the Arts is located at 8997 Highland Drive in Brecksville located off Rt. 82 west of Rt. 21.

If you cannot make 4 weekends for a class, how about 1-1/2 hours for a Hungarian dance workshop? Read below....


Hungarian Dance Workshops with Richard Graber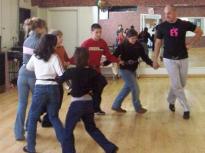 Richard Graber, Founder of Csardas Dance Company, will conduct workshops for both youth and adults at the Brecksville Center for the Arts. The workshops will take place Veterans Day weekend, Saturday, November 11, 2006. The youth workshop takes place from 9:30 am - 11:00 am and is for ages 8 - 14 and the adult workshop for ages 15 and up immediately follows from 11:00 am - 12:30 pm. Cost is $11.00 for members of BCA and $15.00 for non-members for each workshop. Registration deadline is November 4.
For full details, see BRECKSVILLE CENTER FOR THE ARTS or CLASSES/WORKSHOPS. Brecksville Center for the Arts is located at 8997 Highland Drive in Brecksville located off Rt. 82 west of Rt. 21.



Csardas To Perform in Indiana

Csardas Youth Ensemble will perform in Vevay, Indiana in October in conjunction with historic Hoosier Theatre's 2-day "StoryFest". "StoryFest" is an educational outreach to elementary-aged students designed to incorporate hands-on learning involving different cultures. Csardas will perform 6 shows to over 900 students in 2 days. Their performance wil include typical village-style Hungarian dance, a slideshow of Hungary, and instruction on a simple Hungarian dance.
For information on Csardas Dance Company's educational programs, please visit Csardas Dance Company :: Booking Info


New Dance Suite Premiered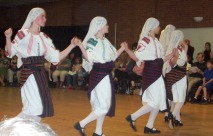 Csardas Youth Ensemble premiered a new suite of dances from Moldavia at Beck Center's Day of Dance in April 2006. The new dances were choreographed by Founder, Richard Graber, during a workshop in February. Rehearsal directors, Stuart Meyer and Judi Horvath, rehearsed with the ensemble for two months perfecting the dances. New authentic costumes from Moldavia were also introduced. The youth ensemble will present their new Moldvian suite of dances at select performances.


Csardas Youth Ensemble Performance Reviews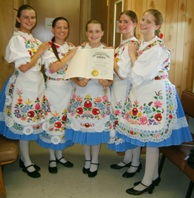 Cs?das Youth Ensemble has performed in many locations throughout 2006 including Kent State University's Culture Shock in April, Beck Center Day of Dance in April, Cleveland Zoo in conjunction with the International Adoption Agency in May, and Shaker Square Mosaic Festival in June. The ensemble was recently invited by the Governor's Office of Multicultural Affairs to perform during Multicultural Day at the Ohio State Fair in August. The ensemble was a recipient of a Certificate of Recognition from the Governor's Office and was also featured on Columbus TV Channel 6 News that evening.


Csardas Invited to Perform for Cleveland Hungarian Revolution 50th Anniversary Event

Csardas Youth Ensemble has been invited to perform at the Freedom Festival in conjunction with the Cleveland Hungarian Revolution 50th Anniversary at the Cleveland State University Wolstein Center on Saturday, October 21, 2006. Cleveland is home to roughly 80,000 ethnic Hungarians and upon the half century mark, Csardas is proud to be part of this commemorate event. For more information on this special performance, please visit Festival of Freedom. Performance times to be announced.


Graber Named Director of Communications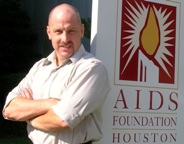 HOUSTON (August 30, 2006) ? AIDS Foundation Houston, Inc. (AFH) is pleased to announce Richard Graber as its new Communications and Marketing Coordinator. As the coordinator, Graber will assume responsibility for AFH?s marketing and communications strategies and initiatives. His duties will include informing the community of AFH?s expertise in HIV/AIDS education, prevention and social services. In doing so, Graber will be involved in maximizing media coverage of AFH programs, services and events; generating positive proactive media coverage for AFH sponsors and community partners; and educating and raising awareness among the media and the community regarding the current state of HIV/AIDS and its impact on public health. ?We are thrilled to have Graber working with our communications team,? said AFH CEO Kelly McCann. ?With his previous experience and knowledge of our organization, Graber is a natural fit for this position.? Graber will be promoting AFH's Arts for AIDS performance series, a innovative model utilizing world class talent in order to raise awareness and funds for HIV/AIDS outreach and education.


Upcoming Performance Schedule

Csardas Youth Ensemble's performance schedule for late summer/early autumn is as follows:
Sat., Sep. 2 - "Taste of Cleveland" - Tower City Amphitheatre
Sun., Sep. 3 - "Oktoberfest" - Berea Fairgrounds
Thurs., Fri., Oct. 5-6 - "StoryFest", Vevay, Indiana
Sun., Oct. 15 - "Grape Harvest Dance" - Painesville-on-the-Lake
Sat., Oct. 21 - "Freedom Festival" - Cleveland Hungarian Revolution 50th Anniversary - Wolstein Center
Visit our web site for more information at Csardas Dance Company :: Schedule


Your Support is Needed...
In order to continue providing the joy of Hungarian dance to Cleveland and beyond, we rely on the generous support of individuals. It is now easier than ever to support our nonprofit dance organization! Csardas Dance Company is Paypal Verified so you can make a donation with your credit card within minutes and know that the transaction is secure! Your donation is tax deductible! To support Csardas please visit:
Csardas Dance Company :: Support


Watch for occasional "Communique" bulletins to keep you up to date with happenings with Csardas!